Index of Videos (below)
"Mister Rose" the video
A dynamic glimpse into the teaching style of spiritual teacher Richard Rose (1917-2005), this very special video follows a group of university students on a visit to Richard Rose at the TAT Foundation rural retreat in West Virginia.
Beyond Mind, Beyond Death
The 2005 TAT Foundation Spring Conference.
What Is Spiritual Action?
The 2006 TAT Foundation Spring Conference.
See the TAT Foundation website for more information on and purchasing of the above DVDs.
See the Poetry in Motion Films website for more information on the above moving and inspiring documentary. "One remarkable afternoon in 2006, seven friends gathered on the campus of the University of Pittsburgh, to discuss their longing for a deeper meaning in life, the doubts and distractions that keep them from searching intensely, the friendships they have developed along the way, and the hope that keeps them looking. Their heartbreaking honesty resonates with all of us who were ever struck by the immensity of life and wondered what it was all about...."
See the Spiritual Teachers website for more information on Ramana Maharshi and other spiritual teachers.
See the Flight from Death website for more information on the above documentary. The movie is based on the book Denial of Death by Ernest Becker.
See the Flatland the Film website for more information on the above feature film. The site also has downloadable clips in Windows Media, QuickTime and other versions. The film is based on the 1844 philosophical sci fi classic Flatland: A Romance of Many Dimensions by English clergyman and teacher Edwin Abbott.
Andrea Bocelli has been blind since the age of 12 as a result of a soccer accident. In 1992, Italian rock star Zucchero first auditioned Bocelli while scouting for tenors to duet with him in the song "Miserere"; after hearing that recording, the recently deceased "Voice of Italy" Luciano Pavarotti urged Zucchero to use the unknown Bocelli instead of himself, reportedly saying: "... there is no one finer." See the Andrea Bocelli lyrics archive for more background and additional clips.
Randy Pausch: Dying 47-Year-Old Professor Gives Exuberant 'Last Lecture'
Almost all of us have childhood dreams: for example, being an astronaut, or making movies or video games for a living. Sadly, most people don't achieve theirs, and I think that's a shame. I had several specific childhood dreams, and I've actually achieved most of them. More importantly, I have found ways, in particular the creation (with Don Marinelli), of CMU's Entertainment Technology Center (etc.cmu.edu), of helping many young people actually *achieve* their childhood dreams. This talk will discuss how I achieved my childhood dreams (being in zero gravity, designing theme park rides for Disney, and a few others), and will contain realistic advice on how *you* can live your life so that you can make your childhood dreams come true, too. Randy's story now in book form available at Amazon and other booksellers: Last Lecture
Two versions of the folk-spiritual "It's been a long time comin', but I know a change is gonna come" written by Sam Cooke. Inspired by Bob Dylan's "Blowin' in the Wind" when he first heard it in 1963, a few months later Sam produced this song, saying he didn't know where it had come from. "It was almost, he said wonderingly, as if it had come to him in a dream," according to a Rolling Stone article. Sam Cooke bio on Rolling Stone.

"A Change Is Gonna Come" is an expression of faith. Faith could be defined as trust in the universe or in the heart (hsin hsin ming), as confidence in the Creative Principle (i.e., that whatever created you hasn't abandoned you), or simply that "all will be well, very well" (Alfred Pulyan quoting Julian of Norwich). What is your level of faith? What compensates, in your psychology, for a lack of faith?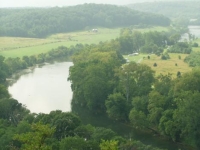 Nostalgia [from the Greek word nostos, a return home] was described by Richard Rose as the language of the soul. The folk tune "O Shenandoah" and the play "Our Town" evoke a nostalgic mood for many people. The Shenandoah is a river in Virginia, on the western frontier in America's colonial days. The folk song may have originated as a chanty used by early 19th century Scots-Irish immigrants, indentured for seven years to pay for their transatlantic voyage, who were working as boatsmen on the Missouri River. One version of the lyrics tells the story of a trader who has fallen in love with the daughter of an eastern Indian chief and who plans to take her west, away from her family.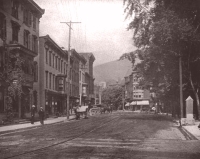 The play Our Town
by Thornton Wilder is surely one of the most beautiful and nostalgic plays ever written. I find myself rereading the short, three-act play every few years and enjoying it every bit as much each time. I've seen several productions of it, the most memorable of which was broadcast on PBS in 1989 (with Spalding Gray as Stage Manager, Penelope Ann Miller as Rebecca, and Eric Stoltz as George). Before his death in 1975, Wilder worked to put together a definitive production. The result was broadcast on NBC in 1977, starring Hal Holbrook as the Stage Manager. There's a 2-disk DVD set Our Town: Two Historic Productions
containing the 1977 and 1989 broadcasts that's available.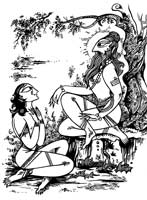 When a guru's not engaged in meditation
A-reciting of his mantra for the week,
His capacity for infantile inflation
Is enough to drive disciples up the creek.
He will take the girls aside for tantric yoga
While celibacy's ordered for the chaps;
If he starts behaving like an angry ogre
He will claim it's just to make your pride collapse.
Oh, with all this yogic practice to be done,
A disciple's lot is not a happy one.
Truth sometimes comes wrapped in a humorous package, as in the above video clips – and in the "Guru Poem" by John Wren-Lewis, from the June 2005 TAT Forum.
Effective cooperation often diminishes or sets aside egos. The above clips show a few examples.
Some music is made for devotional meditation. Examples above from the Hindu and Sufi traditions.
| | | | |
| --- | --- | --- | --- |
| Return of the bison: A herd of bison is repatriated to the Redbud Lakota reservation. (Myspace.com) | Mary Fahl singing the Going Home theme from the film "Gods and Generals." | Rabbit-Proof Fence: Three Aboriginal girls in Australia escaped after being put into a school more than 1,000 miles from home. (IMDB.com) | More scenes from Rabbit-Proof Fence, with background The Return, from the film's soundtrack, "Long Walk Home." |
More nostalgia: the theme of going home is a metaphor for the journey of self-knowing, which is a return to knowing – by identity – our essential nature. Myspace.com Return of the bison: In 1924, 14 bison were taken to Catalina Island for a silent film, where they were left there afterward. The herd eventually grew to several hundred, which the island terrain couldn't support. In 2004 about 100 of the bison were repatriated to the Redbud Lakota reservation in South Dakota (myspace.com video). IMDB.com trailer of Rabbit-Proof Fence: Molly, 14, organized an escape, taking sister Daisy, 10, and cousin Grace, 8, on a desperate trek across barren Western Australia. Based on the book written by Doris Pilkington, Molly's daughter. The real Molly and Daisy, then in their 80s, were shown at the end of the film.
| | |
| --- | --- |
| Scene from sinking of the Titanic in the 1958 film A Night to Remember based on the book by Walter Lord. | Clips from the 1997 film Titanic with background music "Nearer My God to Thee" from the film's soundtrack. (Video.nate.com) |
"Nearer, My God, to Thee" is a 19th century Christian hymn inspired by the Old Testament story of Jacob's dream. Genesis 28:11-12 can be translated as follows: "So he came to a certain place and stayed there all night, because the sun had set. And he took one of the stones of that place and put it at his head, and he lay down in that place to sleep. Then he dreamed, and behold, a ladder was set up on the earth, and its top reached to heaven; and there the angels of God were ascending and descending on it...." (from a Wikipedia article).
| | |
| --- | --- |
| Starry, Starry Night: Don McLean's tribute to Vincent van Gogh, officially titled "Vincent," showing many of van Gogh's paintings. Another clip showing McLean playing and singing "Vincent" accompanied by guitarist Chet Atkins. | Folksinger-songwriter Lori Lieberman heard the young, unknown Don McLean perform another one of his pieces, "Empty Chairs," and was so moved she wrote a poem about it. Charles Fox and Norman Gimbel put the poem to music and titled it Killing Me Softly with His Song. |
Youtube has several versions of singer-songwriter Don McLean's "Vincent," which he wrote in the early 1970s after reading a book about van Gogh's life. The link above features a selection of van Gogh's paintings, as do some of the others. The song, and the story behind it, have a strongly nostalgic appeal.

Also in the early 1970s, Roberta Flack heard Lori Lieberman singing "Killing Me Softly with His Song," recorded it, and won three Grammy awards.
| | |
| --- | --- |
| Excerpts from Peter Russell's DVD on the mystery of consciousness From Science to God begins with the question: "How is it that something as unconscious as the matter of the brain can ever give rise to something as immaterial as an experience?" | A presentation on The Primacy of Consciousness that Russell gave at a 2004 Physics of Consciousness conference. It's an hour and 10 minutes long, and if you persevere to the 1-hour mark, he brings all the interesting scientific talk/speculation around to the question of "Who am I?" |
Peter Russell graduated from Cambridge U. in 1969, with a First Class Honours in Theoretical Physics and Experimental Psychology, then headed for Rishikesh, India, where he trained as a TM teacher under Maharishi Mahesh Yogi. He's written ten books and produced three films on the mystery of consciousness. (Thanks to Ben Rainey, a senior at Carnegie Mellon U., for bringing him to my attention.)
| | |
| --- | --- |
| Images of Essence: The Standing Now is a contemplative meditation in words and pictures conveying an achingly beautiful reminder of our quest for light, love, truth, and being. Its harmony of sight and sound remind us of our true home. See The Mystic Missal site for a selection of sample pages and for ordering. A beautiful present for yourself, a loved one, a friend. | Beyond Mind, Beyond Death, a book of favorite essays, poems and humor from the "TAT Forum" magazine aimed at providing seekers with an ongoing source of encouragement and inspiration. The selections represent views of a diverse set of people who have introspected the mind and gained perspective into our essential nature and being. A companion on the journey to self-realization. Video trailer. |
The above books are new titles from the TAT Foundation Press. The TAT Foundation is a nonprofit organization formed 35 years ago to encourage people to work together in a non-dogmatic search for truth about their existence.

In Images of Essence each photo by Nostalgia West photographer Bob Fergeson and accompanying poem by mystic poet Shawn Nevins builds a crescendo of introspective silence ... one at a time, leading us beyond time. Dr. Ron Masa, founder of The University of Yourself, says: "It's like Rumi with a Nikon."

In 2000 the TAT Foundation began publishing a monthly online magazine, the TAT Forum, as part of its web site. Beyond Mind, Beyond Death contains selections written by TAT members, by other readers, and from various teachers that TAT members have been in contact with over the years such as Douglas Harding, Franklin Merrell-Wolff and Bernadette Roberts, along with sprinklings of wisdom from modern and more distant historical figures such as Al-Ghazali, Nisargadatta Maharaj and Huang-Po.
The 1-minute "Life Is Short" video is a commercial from 2002. The original mpg file was aptly named champagne. I think you'll find the message spelled out at the end to be an ironic conclusion to the title statement.

*Also viewable on this mpg file, which requires an mpg player such as Windows Media Player, QuickTime Player, iTunes, and so on, if the YouTube version isn't available. (Last time I tried, I wasn't getting any sound when opening it in the QuickTime player.)

The death clock, from deathclock.com, is an amusing conversation piece, a statistical projection of how much time you have left (if you're a statistic) and a jarring reminder if you watch it for a while. There may be a delay loading the starting page even after your browser says it's done.

Haunting music video from the Jet Li film "Fearless." ("Mastering others is strength. Mastering yourself makes you fearless." - Lao Tzu.)
| | |
| --- | --- |
| Introductory remarks from William Samuel's 1993 weekend talks in Georgia, filmed by PBS. "It isn't long until we begin to grow the solution...." | William Samuel's remarks on awareness from the same DVD. "There is one thing about which we are absolutely certain.... The one thing we don't fuss about is that awareness is aware...." |
Twelve days before that weekend, William Samuel had a massive stroke, which left him unable to speak or move. The quantum physicist David Bohm was to have been there, also, but likewise had suffered from a critical medical problem at about the same time. You could see that Bill was having some difficulty with his speech at the beginning of the weekend, but his astounding recovery continued and his speech improved noticeably by the end of the filming.

Bill had had a lonely childhood followed by an action-packed life beginning with being commissioned as the youngest Lieutenant fighting in WW II, where he was stationed in China and came under the influence of a Taoist master who changed the direction of his life.
In the early 1980s, a black man bought a home on 3 acres of land in an upscale part of the small town of Bishopville, South Carolina despite objections from a neighbor who felt he wouldn't keep up his yard. He immediately set out to win the local garden club's "yard of the month" award ... in a very unique way. An excerpt from an August 2008 Wall Street Journal article tells us:
"A visit to Pearl Fryar's garden isn't a typical stroll in the park. Those who reach this tiny town in the heart of former cotton country will notice a live oak carved into a cube, boxwoods spelling out the word "love" and geometric shapes scattered throughout the three acres surrounding a modest ranch home. His dogwood – a tree that isn't supposed to be able to be made into topiary – looks like a pile of snowballs when in full bloom. And his signature piece – a Leyland cypress pruned and twisted into something resembling a fish skeleton – dominates his side yard. But what is most striking is that this piece of cultivated land is transforming Bishopville, bridging racial divides and becoming a source of inspiration for the thousands of people who visit it each year.

"Mr. Fryar is a 68-year-old African-American, the son of sharecroppers, who grew up tending tobacco and other crops on rented land. His father had only a third-grade education. Pearl went on to spend most of his adult life earning a living by working in a factory making cans. He has no formal training in horticulture. But today his work is on display at the Columbia Museum of Art, in the state capital; it wins praise from professional horticulturalists; and it is featured in a new documentary, "A Man Named Pearl," which opened in New York last week. The film chronicles the unlikely story of Mr. Fryar's rise from obscurity to acceptance and a certain kind of fame."
"If you do what's in a book, it won't be yours. You'll just be following what someone else has already done." ~ Pearl Fryar

"… [He's] really something, very vital and great heart, good role model." ~ Bob Fergeson
Selections of moving poems by two great poets from the Poetry Chaikhana youtube channel. The first is by Robert Bly, from his collection of Kabir's "Ecstatic Poems" (Amazon link).
The second is by Coleman Barks, from his "Essential Rumi" (Amazon link).
Above are links to three nostalgic scenes from the 1971 film "Fiddler on the Roof," based on stories by Sholem Aleichem. The first is the gathering of family and friends for the Sabbath meal; the second is the scene of the oldest daughter's betrothal, where family tradition begins to crumble; and the third is the beginning of their marriage ceremony.
Queen - Sung by children
Who Wants to Live Forever?

Words and music by Brian May:

There's no time for us
There's no place for us
What is this thing that builds our dreams yet slips away
From us

Who wants to live forever
Who wants to live forever....?

There's no chance for us
Its all decided for us
This world has only one sweet moment set aside for us

Who wants to live forever
Who wants to live forever?

Who dares to love forever?
When love must die

But touch my tears with your lips
Touch my world with your fingertips
And we can have forever
And we can love forever
Forever is our today
Who wants to live forever
Who wants to live forever?
Forever is our today

Who waits forever anyway?
Who Wants to Live Forever? written by Brian May and performed by Roger Taylor and John Deacon, all of Queen, in the studio – sung by Ian Meeson & Belinda Gillett for the British Bone Marrow Donor Appeal (1989).
1. Bob Cergol at TAT 2011 April

2. Mike Conners at TAT 2011 April
3. Bob Fergeson at TAT 2011 April
1. With many years coming close to Richard Rose and those who affiliated with the Truth and Transmission Group a great many changes occurred in beliefs, attitude and eventually relaxing into (or out of) the whole idea of enlightenment. Bob is a great conversationalist, looking to get to the root of a question and discover something new about it, more than espouse some previous knowing.

2. Just what does effortless mean? NO EFFORT! We sit down with the intention to do our technique, but then we "do" nothing! We welcome whatever happens as it comes. Just like remembering and forgetting a name or phone number, we remember our technique automatically.

3. My journey culminated in a dramatic realization, the experience of my true nature as pure awareness, love in action. This was a traumatic loss of the personal man, which was replaced by the knowledge of myself as the universal awareness in every man, in everything. The question of "who am I" was answered. This was replaced by a drive to communicate the ways and means of this realization to others who ask the same question.
4. Bob Fergeson interview
5. Tess Hughes at TAT 2011 April
6. Tess Hughes interview
4. I've found that deep down, we are all connected, and the experiences of one are the experiences of all. It is my wish that through these photos, what these eyes have seen, and what this heart has felt, will become available for all, and that the longing these scenes have stirred within me, will stir in the hearts of others. This nostalgia I feel for the Western landscape springs from the longing to return to the home within. This nostalgic mood can be a connection to the heart, leading us back to whence we came. See some of Bob's exquisite photographs with a beautiful musical background on this video clip: NostalgiaWest.wmv.

5. The last presentation was extemporaneous by Tess Hughes, visiting from Ireland. In five short years from finding out about TAT, she opened to a vast vision of humanity and herself.

6. In August 2010 I had again arranged to spend a week on solitary retreat in County Cavan. On the last night of this retreat an "experience" occurred which I immediately, instinctively knew was the end of the line. I knew without a shadow of a doubt that I had seen my true nature. I finally had the answer to my question, "What's it all about?" I knew what I am before birth and after death and what everyone also is. I knew and I knew that I knew.
7. Bart Marshall at TAT 2011 April
8. Shawn Nevins and Deborah Westmoreland reading poetry at TAT 2011 April
9. Shawn Nevins interview
7. To live in a state of gratitude is not always an easy thing, but there is no more powerful practice for getting what you want from the "Universe." In keeping with the occult dictum, "As above, so below," the principle involved is easily observed on the human level. To whom would you rather give a new toy, a child who always thanks you and loves everything you give him, or a child who looks at everything with disdain and always wants something different?

8. Poetry comes to the heart of the matter. Poems have the few words that can wrap around this thing. All you can do is make these gestures about it. "Take a moment to be aware of your current state. Now, imagine that yesterday you died. You are exactly where you are right now, only you are dead. Nothing has changed, except that you are dead. Everything that you do from here on out is the action of a dead person – it means nothing. Try as you might, your actions have no effect. Your touch is that of a ghost, your mightiest efforts like a soft breeze...."

9. "... Your friends call your name, but as you reach out to them, you see that they too are ghosts. All that you hold dear, is like a storybook – it existed, but was made to be set aside. In all the universe, there is only you. Utterly powerless to even cast a shadow upon a wall. You are dead, yet you feel alive. A Light shines through your form, animating your thought. Listen for your ceasing to be, it is calling. Let the ghost cry for the loss of it's self – tears of Truth to set it free. You died the day you were born. How long will you wait to go Home?"
The above video clips come from presentations at the April 2011 TAT Foundation gathering and follow-up interviews by videographer Richard Miller of www.NeverNotHere.com – other than the Tess Hughes interview, which was done by Renate McNay of www.conscious.tv.
| | |
| --- | --- |
| Robert Anton Wilson explains quantum physics. No Chinese raised on I Ching has ever found Quantum Mechanics puzzling. It's only puzzling to people raised on Aristotelian logic, where things are either A or not-A. In the I Ching, things are A and not-A at the same time. | Robert Anton Wilson: Free your mind. Nasrudin [mythical Sufi mullah and wise fool of the Middle Ages] galloped his donkey through the streets of Baghdad, in a wild hunt and search … people came out of their houses and yelled: Nasrudin, what are you looking for? He replied: I lost my donkey, and I'm looking for it. |
Robert Anton Wilson (1932-2007) was a fascinating, entertaining and stimulating speaker … a psychologist and polymath philosopher, futurist, novelist, playwright, et alia, who described himself as an agnostic mystic.

The donkey represents what everybody is looking for to settle their souls … and all the time it's carrying you around. "You think the world of your experience is the whole of the universe … unless you've been through a Sufi school or studied General Semantics or done a lot of Zen meditation or dropped LSD once or twice."
What do Jack & Jill contests in Western Swing Dance and Patrick Haggard in neurological studies of human psychology have in common? More than words....

A friend, Corina B., explains the dance:
Jack & Jill style competition means that they are paired up randomly by a drawing and they have to dance the best they can. Still, most of the people competing, especially on the advanced level, have been in the circuit forever and have danced with each other many times. But yes, it's not rehearsed, and a lot of it depends on the song they will get and how they match together to that particular song. If the energy of one partner is off for the song, then it will bring both of them down. You can see in a lot of them, they mostly match and manage to lead what they want, but sometimes you can tell when a move goes wrong or the partner did not get it the right way. It's sort of tricky.

I really enjoy the smoothness of the dance, along with some well-timed breaks along the music. It's really nice when you are dancing and you both stop at the same time on a beat, it's a great moment of connection. Dancing really is all about non-verbal communication, listening with your muscles and body awareness to the other person, as they try to move you in a specific direction in space.

Every one of those dancers knows the technique of west coast swing, which is back and forth transition on a slot, to a certain count, which matches a particular kind of music. That is not what the contests are judged on. They are judged on the improv part, the part where the partners sync together on one move, which is a part of the pattern overall and yet improvisational. Kind of like when they stop on the beat together and stare into each other's face dramatically before picking up again on the next beat in the music – it is done technically correctly, because they picked up on the beat of the music where they should have been in that particular move, and yet it's improvisational because they could do that dramatic break on any beat in that song, it's completely random.
And then we listen to Patrick Haggard's update [video clip on forum-network.org] on neurological research going back to the pioneering work of Benjamin Libet (1916-2007) which shows that brain activity begins before we become conscious of our intention to perform volitional acts. How do two organisms sync their spontaneous movements when all movement is preceded by pre-conscious electrical brain activity? [March 2013 update: That talk is no longer available, but the link directs you to a presentation by Haggard in a debate on Benjamin Libet's "anatomy of an action."]
| | | | |
| --- | --- | --- | --- |
| Winter Solstice: time-lapse photography of the afternoon/evening on Lake Granby, Colorado, set to Michael Dulin's "Simply Satie." | Irish Weekend: Athrú Eisintiúil - Essential Transformation, March 31st - April 1st 2012, Brigit's Garden, Galway, Ireland. "Sí bheag sí mhor" Irish background music. | Zion: Zion National Park, a video slideshow set to the music of Gregorian Chants. | Empty Benches: A superlatively nostalgic theme, with music from "The King's Speech." |
See Bob Fergeson's YouTube channel for more of his photography with musical backgrounds. Also see his Nostalgia West, Mystic Missal and Listening Attention websites.
| | |
| --- | --- |
| Abide with Me sung by Haley Westenra at the 2009 Rugby League Challenge Cup Final, Wembley Stadium, London. | Abide with Me sung by Shirley Bassey with the Black Mountain Male Chorus of Wales. |
See "Abide with Me" history for a moving background of the how the hymn came about, and see account of the execution of Edith Cavell for its connection with the death of WWI nurse Edith Cavell. The Biblical reference that inspired the composer, Henry F. Lyte, was Luke 24:29: "But they constrained him, saying, Abide with us: for it is toward evening, and the day is far spent. And he went in to tarry with them."

When I sent a link to a recording of it played by the Air Warriors Symphony Orchestra to an Indian friend after reading that it was one of Mahatma Gandhi's favorites, he wrote the following response: "What a coincidence... This hymn was part of my school prayer book (I went to a catholic school) in India and I was extremely moved by this hymn to the extent that I used to tape it in my singing voice and keep listening to it. This was when I was in 9th/10th grade. What resonated in it was exactly what you said, a feeling of death and my helplessness in face of it."

Despite the poignant lyrics of "Abide with Me" and the beautiful melody that has become associated with it, the author restrained his prayer to what I believe is a heartfelt but suboptimal wish: that the Lord or Godhead would come and remain with him. When the guru who has "crossed to the other shore" invites someone – by word or more expressively in silence – to abide with him, he's not talking about a sojourn or a journey except as a possible preliminary. He's inviting the wanderer to come home, to the place where he and Godhead are not merely together but are One.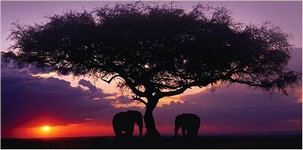 I was a fan of detective mysteries from the time I was a kid. I haven't had much interest in fiction writing in recent years, but I picked up The No.1 Ladies' Detective Agency
at the library and found it to be one of a fascinating series by Alexander McCall Smith, who was born in Zimbabwe, taught law at the U. of Botswana, and is now an emeritus professor of medical law at the U. of Edinburgh.

Smith travels from Scotland to Botswana every year to do research for the books. He says he "hears" the first page of each book in his mind before he starts writing it. The photography is exquisite and the characters are immensely likeable. The depiction of Precious Ramotswe and her milieu strikes me as both poignantly interesting and nostalgic.
More nostalgic tunes, these two about the American West of the cowboy era and open ranges.

The first one is by the Irish rock band Thin Lizzy, which begins with this stanza:

I am just a cowboy lonesome on the trail
A STARRY night, the CAMPFIRE light
The coyote call, and the howling winds wail
So I'll ride out to the old sundown


Written by Ed Bruce, "This is the last cowboy song / The end of a hundred-year waltz...."
is performed here by Waylon Jennings, Kris Kristofferson, Willie Nelson, and Johnny Cash.
All 133 members of Only Boys Aloud sang their hearts out to impress "Britain's
Got Talent" judges Simon Cowell, David Williams, Amanda Holden and Alesha Dixon.
Why do we get out of bed in the morning?
Is all action the result of irritation?
Is it possible to see or feel what we really, really want most from life?
Are we afraid of honesty and truthfulness?
Are we afraid to pursue our impossible dream?
Index


Abide with Me
Ashokan Farewell
Awareness is aware.... William Samuel
Coleman Barks reading Rumi's 'Love Dogs'
'Beyond Mind, Beyond Death' conference clips
'Beyond Mind, Beyond Death' book trailer
Robert Bly reading Kabir's 'Inside this Clay Jug'
Andrea Bocelli
Botswana / No. 1 Ladies Detective Agency
George Boyd on Thornton Wilder & Our Town
Susan Boyle (I Dreamed a Dream)
Sarah Brightman & Andrea Bocelli
Brigit's Garden, Galway, Ireland
Ken Burns PBS Civil War theme (Ashokan Farewell)
Cavaliers drum line warm-up
Bob Cergol (TAT 2011)
A Change is Gonna Come (Sam Cooke)
Closer than Close
Con te partirò (Bocelli & Brightman)
Mike Conners (TAT 2011)
Carla Cooke duet with father
Sam Cooke: Long Time Coming
Cowboy Songs
O Danny Boy
Death Clock
Dream the Impossible Dream (The Quest)
Empty Benches
'Fearless' (Jet Li)
Bob Fergeson (TAT 2011)
Bob Fergeson, 'Nostalgia: The Way Home'
'Fiddler on the Roof'
Final Lecture (Randy Pausch)
Flatland the Film
Flight from Death: The Quest for Immortality
Florida Gators drumline warm-up
Free will in neuroscience studies
From Science to God (Peter Russell)

Frontier Brigade Band (O Shenandoah)
Going Home - Mary Fahl, from 'Gods & Generals'
Guru cartoon by D.J. Story
Guru poem by John Wren-Lewis
Patrick Haggard on human will
Thomas Hampson singing O Shenandoah
Douglas Harding: 'The Man with No Head'
Tess Hughes (TAT 2011)
Images of Essence: The Standing Now
Jet Li: 'Fearless'
Jung (Carl) on Death
Kabir: Inside this Clay Jug
Killing me Softly with his Love
John Kovac on harp: O Shenandoah
Lake Granby, Colorado - winter solstice
The Last Cowboy Song - The Highwaymen
"Life Is Short" startling ad
Living and Dying in Our Town (Boise, Idaho theater)
Long Time Coming (Sam Cooke)
A Man Named Pearl
'The Man with No Head' by Richard Lang
Marriage ceremony (Fiddler on the Roof)
Bart Marshall (TAT 2011)
Miserere (Bocelli & Zucchero)
Mister Rose, the video
Monty Python: International philosophy
'Nearer my God to Thee' from 'Titanic'
Shawn Nevins (TAT 2011)
'A Night to Remember' sinking of the Titanic
Nisargadatta Maharaj
'Nostalgia: The Way Home' by Bob Fergeson
No. 1 Ladies Detective Agency / Botswana
Nusrat Fateh Ali Khan - Sufi qawwali
Olympic gold skaters Salé and Pelletier
Only Boys Aloud
Our Town

Randy Pausch
PBS retrospective: Our Town
Pearl Fryar's topiary garden
Phir Raat Kati scene from Bollywood 'Paheli'
The Primacy of Consciousness (Peter Russell)
Queen: Who Wants to Live Forever? (children)
The Quest (Dream the Impossible Dream)
'Rabbit-Proof Fence'
Ramana Maharshi
Ravi Shankar - sitar virtuoso
'The Return' (Peter Gabriel) Rabbit-Proof Fence
Return of the Bison - Redbud Lakota
Robert Anton Wilson
Rumi: Love Dogs
Peter Russell: science of consciousness
Sabbath prayer (Fiddler on the Roof)
William Samuel - PBS documentary intro
Diane Sawyer interviewing Randy Pausch
O Shenandoah
'Starry Starry Night' van Gogh tribute
Sufi Kalam of Bule Shaw
Swing dance to "More than Words"
TAT Foundation - April 2011 gathering
Thin Lizzy Cowboy Song
Venezuela youth orchestra
Vivo per lei (Bocelli & Westenra)
We gave each other a pledge (Fiddler on the Roof)
Haley Westenra & Andrea Bocelli
Deborah Westmoreland (TAT 2011)
What Is Spiritual Action?
'Who Wants to Live Forever? (Queen / children)
'Witness' barn-raising scene
John Wren-Lewis: guru poem (humor)
Zakir Hussain - tabla master
Zion National Park, Utah
Zucchero & Andrea Bocelli